Italian team clinch their first win in the last 2019-20 Asian Le Mans Series round in Thailand with Bressan / Fumanelli / Laskaratos on the #12 Ligier JS P3: "Perfect strategy, perfect driving"
Buriram (Thailand), February 23, 2020. ACE1 Villorba Corse take their first victory in the Asian Le Mans Series. On Sunday (February 23) the Italian team dominated the LMP3 class at the 4 Hours of Buriram, last round of the Asian endurance series. Despite starting from the third row, the Ligier JS P3 Nissan of Alessandro Bressan, David Fumanelli and Andreas Laskaratos won its category (and finished eighth overall) thanks to a perfect race strategy both on track and in the pits. The team led by Raimondo Amadio made no mistake in all the choices that brought the ACE1 Villorba Corse Ligier-Nissan to lead the LMP3 class. Then drivers and team principal celebrated on podium the first win of this project born in partnership with the ACE1 team of Japanese driver Yuki Harata. Thanks to Buriram's victory, ACE1 Villorba Corse is vice-champion in the team standings of 2019-20 Asian Le Mans Series.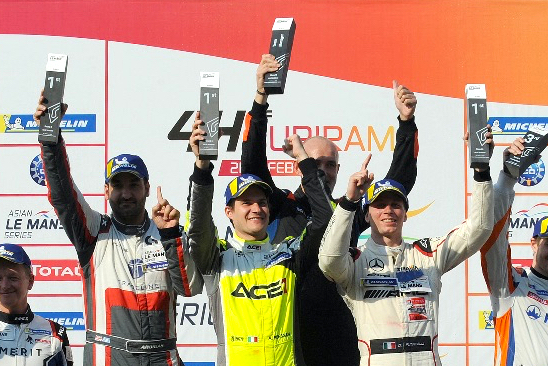 Team Principal Raimondo Amadio says : "This was a well deserved victory. We dominated the race on track and on strategy showing the real value of our team. Zero mistakes, competitive drivers, perfect team in the pits; they represent the best conclusion for this Asian programme and the ideal support for our return to Europe. And with a little more luck in previous races we could have fought for first place in the championship. However, we have accomplished the mission of getting faster and faster. We knew we could surprise and we succeeded. This must always be the target of Villorba Corse. This year we want to race with at least one top car in every racing programme or challenge that we will soon announce".