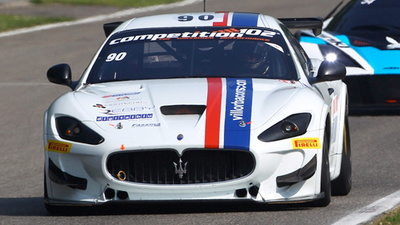 VILLORBA CORSE AND MASERATI AT THE EUROPEAN GT4 AT THE HUNGARORING
After a long summer break, on September 23-25 Italian team will take part in the fifth round of the SRO-promoted championship with Pro-class crew Anselmi / Zamparini, who will race together for the first time, and Polish Am-class pair formed by Chodzen father and son.

After a long summer break, the Competition102 GT4 European Series resumes this week with round five of the season in Hungary where Scuderia Villorba Corse is ready to fight back with their Maserati GranTurismo MC again. Still among the top drivers in the standings, where he is fighting for the overall podium, for the first time Monza race-1 winner Luca Anselmi will share the #90 Maserati with Patrick Zamparini, who also won at Monza but in the Am category. So Villorba Corse will line up a brand new crew to fight in the Pro class while the second one remains unchanged and it is formed by Polish Piotr and his son Antoni Chodzen. For the first time, the Hungaroring will host a round of the championship and 27 cars have been entered for the two 50-minute races at the circuit in Mogyoród, near Budapest. The weekend will kick off on Friday, September 23, with two one-hour free practice sessions. The first session will start at 11:00, with a second session scheduled for 15:40. Qualifying for the two races will take place on Saturday morning at 9:40. The first race will start at 17:45 that same day; the second race will take place on Sunday morning at 9:30. Both races will be shown live at www.gt4series.com/live .

Team Principal Amadio says: "The season comes alive with the final rush at Budapest this weekend and at Zandvoort in October. Still one hundred points are to be assigned so the championship is wide open. We believe that the new Anselmi / Zamparini crew can be competitive and able to clinch an useful result. It will be very important not to make mistakes and to try to score as many points as possible already from race-1".

Competition102 GT4 European Series 2016 calendar: Apr. 24 Monza (ITA); May 15 Pau (FRA); June 12 Silverstone (GBR); July 10 Spa (BEL); Sept. 24 Budapest (HUN); Oct. 9 Zandvoort (NED).