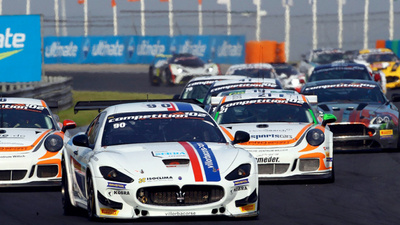 VILLORBA CORSE AND MASERATI TAKE PART IN THE FINAL GT4
Italian team to take part in the final and crucial round at Zandvoort with Pro-class crew Anselmi / Zamparini and Polish Am-class pair formed by Chodzen father and son.
2016. Scuderia Villorba Corse is ready to take part in the final and crucial round of the Competition102 GT4 European Series with two Maserati GranTurismo MC. The championship showdown will be held in the Netherlands at Zandvoort from October 7 to 9. On this occasion the team led by Raimondo Amadio has a chance to fight for a final podium position in the standings with Luca Anselmi, who is battling also in the drivers' standings, and Patrick Zamparini, the Italian crew that clinched one victory and two pole positions during last round at the Hungaroring. "Finalraces" at Zandvoort are announced to be a very demanding racing weekend for them, who will share the #90 Maserati for the second time. Also the Am-class line-up remains the same with Polish Piotr and his son Antoni Chodzen together again. Track action starts on Friday with a 60-minute free practice session at 14h30. After a second practice session on Saturday, at 10h30, the team will qualify from 14h50 that same day. The two races will be held on Sunday, October 9. Race-1 will start at 10h00 while the race-2 at 15h00. Both races will be shown live at www.gt4series.com/live .

Team Principal Amadio says: "Zandvoort will not be an easy weekend as the Dutch circuit is tricky and very difficult but we are determined to get the best possible result to be able to end our first GT4 season as one of the top team of the category. With no doubt 2016 is a positive season that allowed us to start a new and very interesting adventure as the Competition102 GT4 European Series. We are really pleased with the collaboration with Maserati and we are already working at the 2017 programme".

Competition102 GT4 European Series 2016 calendar: Apr. 24 Monza (ITA); May 15 Pau (FRA); June 12 Silverstone (GBR); July 10 Spa (BEL); Sept. 24 Budapest (HUN); Oct. 9 Zandvoort (NED).