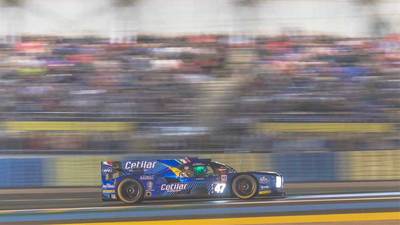 CETILAR VILLORBA CORSE CONSTANT AND CONSISTENT IN QUALIFYING AT LE MANS
In the first night sessions the Italian team's crew of Lacorte, Sernagiotto and Nasr leads between the Dallaras and sets 8th fastest time in LMP2 "A great job done by the three drivers ahead of the race". Today Q2 at 19:00 and Q3 at 22:00.
Le Mans (France), 14 June 2018. The intense work bringing Cetilar Villorba Corse closer to the start of the 2018 Le Mans 24 Hours continues. In the first night qualifying sessions of Wednesday 13 June the first positive results came for the Italian crew formed by Pisa-born Roberto Lacorte, the driver from Treviso Giorgio Sernagiotto and the Brazilian former F. 1 driver Felipe Nasr on the Dallara P217 in LMP2 class. The prototype driven by the Gibson engine completed 28 laps of the 13.6 km track which will be the scene of the most famous 24-hour race from 15:00 on Saturday to the same time on Sunday, June 17. An excellent time achieved by Nasr in 3'27"993 at an average 235.8 Km/h. A time set by the F.1 driver on lap 2 of his 2nd stint after fitting a set of new tyres. Lacorte and Sernagiotto focused more on the race pace. Halfway through Giorgio Sernagiotto's stint, a puncture forced the venetian driver into an extra pit stop, where the team replaced the wheel and returned into pristine order the LMP2 prototype in record time.