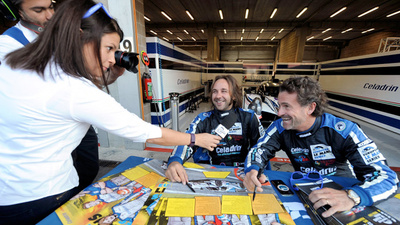 VILLORBA CORSE AND LACORTE - SERNAGIOTTO AT GREAT FINAL ELMS IN ESTORIL
After the announcement of the LMP2 entry with Dallara in 2017, Italian team will end the season in Portugal with Lacorte / Sernagiotto on their Ligier JS P3 Nissan. Villorba Corse will also line up a Ferrari 458 for french crew Mezard / Hiesse in the Michelin GT3 Le Mans Cup.

LMP2 entry with Dallara in 2017 still echoes, but Scuderia Villorba Corse is set and very much concentrated on the 2016 European Le Mans Series grand finale in Portugal. The event will be held at the Estoril racing circuit from October 21 to 23, when Roberto Lacorte and Giorgio Sernagiotto will alternate on their Ligier JS P3 Nissan. After the consistent performances shown at Le Castellet and Spa, Italian squad led by Raimondo Amadio aims to end the season in style with a positive result. The 4 Hours of Estoril will feature a large 37 car grid (19 LMP3s) that promises plenty of on track action. Live coverage of the race will be on the official ELMS website at www.europeanlemansseries.com.