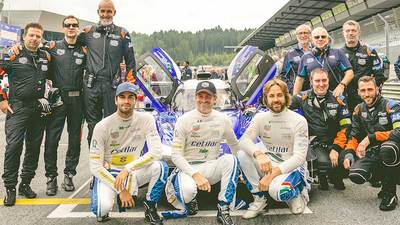 ITALIAN TEAM TESTING AT SPA FOR THE 4-HOUR RACE TO BE HELD ON SUNDAY WITH LACORTE/SERNAGIOTTO/NASR ON THE DALLARA P217
Treviso (Italy), September 19, 2018. Spa hosts the fifth and penultimate round of the 2018 European Le Mans Series and Cetilar Villorba Corse continues the intense international endurance series on the track as early as Wednesday (September 19) to better prepare the Belgian 4 Hours that will take place over the weekend. The Italian team is working ahead of Sunday's race with Italian drivers Roberto Lacorte, Giorgio Sernagiotto and Brazilian Felipe Nasr on the #47 Dallara P217 Gibson for a day of free practice with the aim of starting to collect useful data regarding some developments and analysis carried out on the LMP2 class prototype after Silverstone. If in England last month, their race was conditioned by electronic issues, in 2017 at Spa Cetilar Villorba Corse was the protagonist of a positive comeback up to the seventh position. Forty cars (16 LMP2's) will take part in the 4 Hours of Spa. Track action will begin on Friday 21 September, with the race on Sunday 23 September at 12:30hrs. Fully live streaming available on www.europeanlemansseries.com).
Team Principal Amadio says: "Spa will be a very hard stage. After Silverstone's issues it will be very important to finish the race and collect as many points as possible. During the entire weekend, special attention will also be given to data collection that will be useful on the development that we began on our prototype; no revolutions, just small changes that I hope will bring improvements on the performance".